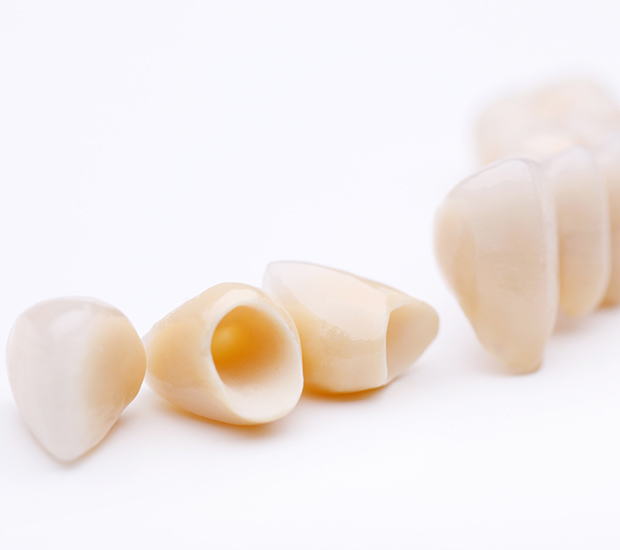 Dental Crowns
Miami, FL
At Dr. Rita The Smile Designer, we provide dental crowns and bridges for patients throughout the Miami area. These procedures are chosen to effectively restore significantly broken down teeth that have become damaged by bacteria,trauma, infection, or structural defects. Dental bridges are also used to replace missing teeth. Porcelain crowns and bridges address the pathology associated with the affected area while simultaneously restoring the natural form, appearance, and function to the dentition. Applying principles designed to restore the teeth to natural form allows the patients to enjoy fully functional restorations that appear and fit as if they were original teeth. If you live in Miami, FL call (305) 858-0505 to schedule your appointment to learn more about how dental crowns and dental bridges can improve YOUR smile.
What are dental crowns?
A dental crown is a laboratory produced tooth form made of porcelain, zirconia, or other technologically advanced materials designed to restore the natural form, function, and appearance to a damaged tooth. The crown, or cap,is made to fit over the natural tooth. The material selected for the crown or bridge is determined by the location and purpose it will serve in the oral cavity.
What are dental bridges?
A dental bridge is a multi-crown restoration used to replace a missing tooth, or teeth. At Dr. Rita The Smile Designer, traditional dental bridges are offered to patients who choose not to replace missing teeth with dental implants or with removable appliances. A dental bridge is supported by natural teeth that are found on either end of the edentulous ( missing teeth ) area. For more detailed information, schedule an appointment at our office for a customized evaluation. As a cosmetic dentist, Dr. Rita Dargham will design a bridge made to optimize the function, form, and esthetics of your smile.
Before the Procedure
If you are getting dental crowns or a dental bridge for cosmetic reasons, we often recommend that you whiten your teeth first if you think you may want a whiter smile. At Dr. Rita The Smile Designer, we offer teeth whitening procedures that can improve the appearance of your smile quickly and easily. It is important to have this procedure done first because the material that crowns and bridges are made out of are both stain and bleach resistant. That means that if it is created to match yellow teeth, it will remain yellow even if you have your teeth whitened at a later date. When you have the whitening completed first, your new crown or bridge will be made to match your new brilliantly white teeth.
Miami, Florida Dental Crowns and Dental Bridges
The Process
When electing to have dental crowns and dental bridges fabricated, it is advisable that you work with a restorative and cosmetic dentist that knows how to complete the procedure in a way that looks and feels natural. At Dr. Rita The Smile Designer, we can do so while also working to keep our patients as comfortable as possible by using sedation dentistry.
When fabricating a dental crown for a tooth, Dr. Rita The Smile Designer starts by preparing the tooth. We will need to reshape a portion of the enamel so as to create room for the new restoration. Once complete, custom made temporary crown will be secured to the tooth and is to remain in place during the laboratory phase of the treatment. Patients typically wear this provisional crown for two weeks while waiting for the permanent one to be fabricated. During this time, caution is advised during eating, brushing, and flossing with the temporary crown so as to reduce the risk of it chipping or coming off.
When the dental crown or bridge is complete, patients return to our Miami dentist office, so that we can remove the temporaries and bond the permanent ones to the tooth. For a dental crown, we will secure the cap to the tooth using advanced bonding techniques or cements. Patients elect these restorations to replace missing teeth in a way that looks natural and restores the functionality of the missing tooth, or teeth.
After the Procedure
When preparing the teeth for these dental restorations, your teeth may feel somewhat sensitive for a few days. Use of the temporary crown will ease the discomfort and create an environment amenable to normal function. We use sedation dentistry to ensure that you will not experience any discomfort during the procedure. The use of over the counter analgesics are recommended for mild post operative discomfort.
The benefit of wearing a porcelain crown is that it surrounds and protects the tooth. Regardless of the initial structural damage, the crown allows you to eat your favorite foods without fear of discomfort. A crown can restore the functionality of your mouth by making it easy to eat, drink and speak like normal. This is ideal for people that are suffering from severely sensitive teeth, have a cracked or chipped tooth, or have undergone a root canal. Similarly, a bridge makes it possible to eat and speak like normal without worrying about your new teeth becoming loose or falling out. They are both ideal for people that have active lifestyles and don't want to be constrained by their teeth. To find out if the procedure is right for you, call 3058580505 to schedule an appointment with us and discuss your options. At Dr. Rita The Smile Designer, we make it easier for patients throughout Miami to have a beautiful and functional smile.
Additional Information
As you may already know, completing your crown or bridge may require 2 to 3 visits, the first of which consists of numbing the area of your mouth we are working on, preparing (reshaping) the tooth or teeth receiving the new crown, and taking a final impression or digital scan of the mouth. This impression, along with other information, will then be sent to the dental laboratory for the fabrication of the final crown or bridge, after which Dr. Rita will have made you a temporary crown or bridge for your use while awaiting the arrival of the new permanent restoration.
All this may result in some pressure and temperature sensitivity, at times lasting for a few weeks. Refrain from consuming substances too extreme in temperature or texture. Mild pain medications such as Ibuprofen/Motrin or Tylenol maybe be used as directed by our office. Dr. Rita typically recommends taking up to three 200mg tablets of Ibuprofen/Motrin, combined with one tablet of Tylenol, every six hours. Please contact our office should these medications not be indicated for you or are not sufficient to relieve your discomfort.
Your temporary crown may come loose or fall off. Please seat the crown over your tooth and call our office to schedule a recementation appointment, bringing the crown with you to your visit. Avoid rigorous flossing by not pulling up on the floss. Instead, pull the floss out from the side of the temporary crown. If unable to visit the office at that moment, please contact us for further instructions.
Please call us if your bite feels high, uneven, or persistently painful. We could be reached at (305) 858-0505 for the Coconut Grove location or at (305) 572-1600 for Biscayne Boulevard location.
If you live in the Miami area, call (305) 858-0505 to schedule your dental exam so that you can remain in good health or receive treatment for a current condition.
Questions Answered on This Page
People Also Ask
Definition of Cosmetic Dentistry Terminology
Allograft

An allograft is a graft of tissue from a donor within the same species as the patient that is not a genetic relative.

Alveolar Ridge

The alveolar ridge is the bony structure that contains the sockets of the teeth. This ridge also forms most of the hard palate.

Autograft

An autograft is a graft of tissue from one portion of an individual's body to another.

Bleachorexia

The obsession with having whiter teeth can lead to bleachorexia, or over bleaching, causing significant damage to the tooth enamel and gums in the process.

Cap Splint

A cap splint is a plastic or metallic device that professionals may use to treat mandible or maxillary fractures and cover crowns of teeth.

Cosmetic Dentistry

Cosmetic dentistry combines comprehensive dental principles with artistic sensibility to design and create optimally healthy and beautiful restorations intended to enhance the appearance of one's smile while preserving ideal function and form.

Crown Lengthening

Crown lengthening is a surgical procedure that increases the length of a tooth for restorative or esthetic purposes.

Dental Crown

A crown is a laboratory fabricated tooth form, usually consisting of porcelain, which covers the top of a natural tooth abutment or a dental implant. It provides patients with an aesthetically pleasing and fully-functional tooth.

Dentin Hypersensitivity

Dentin hypersensitivity is noted when the outer protective enamel layer of the tooth becomes thin or worn, causing mild to advanced sensitivity to hot, cold, or sweet stimulants.

Dentist

A dentist, also known as a dental surgeon, is a doctor who specializes in the diagnosis, prevention, and treatment of diseases and conditions of the oral cavity.
Back to top of Dental Crowns and Bridges
Recent Posts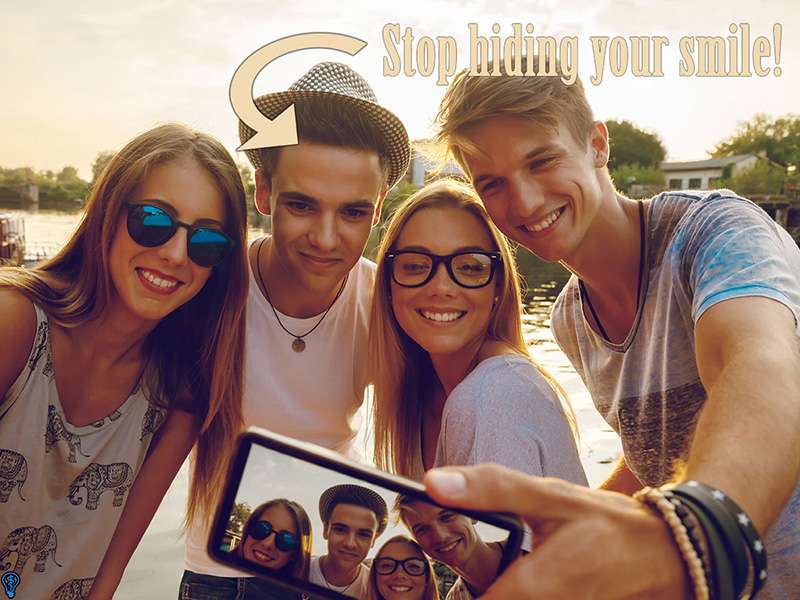 You don't need to live with embarrassment over your teeth thanks to our dental work. Call now.When it comes to a smile, there are certain aspects that brushing and flossing can't change. While proper oral hygiene is essential for one's health, cosmetic dental care offers a variety of procedures to enhance the appearance of one's…
Explore additional topics covered on our website: