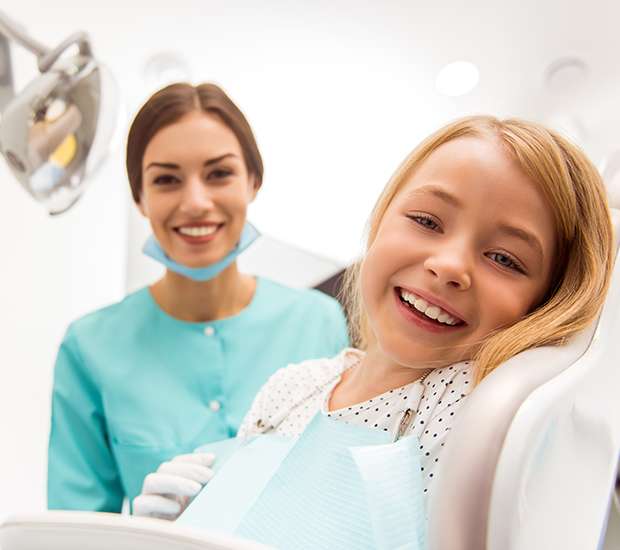 Kid Friendly Dentist
Miami, FL
As a kid friendly dentist in Miami we treat young children, including preschooler and elementary age children, for their first checkup. We realize that a lot of parents do not bring their child to the dentist until they are much older. This, however, is a mistake. Your child can develop cavities as young as their toddler years and visiting our kid friendly dentist office is one way to help prevent them.Important information regarding the child's dental development, their hygiene and dietary habits, and emotional maturation with regards to the dentist can be relayed and fostered during this period of time.
Why is it important to brush your teeth?
The main cause of tooth loss today is periodontal disease. Although tooth decay comes in a close second, periodontal inflammatory conditions affect 75% of adults at some point in their lifetime. The most effective way to control and prevent dental decay (cavities) and periodontal disease is to properly brush and floss, daily.
Both tooth decay (cavities) and periodontal disease are caused by the bacteria found in plaque. This can later be stimulated by additional factors such as a poor diet, medications, and a lack of professional maintenance (regular cleanings and checkups), smoking, diabetes, clenching and grinding of teeth, and stress.
Plaque, a clear film that clings to your teeth at the gum line, forms regularly and on a daily basis. If not removed thoroughly by proper brushing and flossing, it will harden into a rough substance known as calculus (tartar).
Periodontal disease will lead to tooth loss if left untreated. Gingivitis, the initial and reversible phase of periodontal disease, is caused by the irritating effects of bacteria found in plaque. It is characterized by red, swollen, and bleeding gums. If left untreated gingivitis may progress to the irreversible phase of periodontal disease known as Periodontitis. Here, you would experience a separation of the gums from the teeth, resulting in spaces called "pockets", bone loss, tooth mobility, and eventually tooth loss if left uncontrolled.
Despite diligent home care and professional maintenance, genetically susceptible individuals may still develop periodontal disease, requiring specialized professional intervention to help control its progression.
Professional Hygiene Protocols are determined by your specific periodontal status. If healthy and associated with reversible signs of periodontal disease (Gingivitis) our recommendation is for you to commit to a consistent, twice per year (every six months) professional cleaning.
If more advanced, irreversible signs of periodontal disease (Periodontitis) are present, Dr. Rita recommends a more regimented and frequent treatment protocol consisting of professional cleanings every three to four months. Specialized periodontal care and phase two therapy recommendations may be necessary as well.
What You Should Know
As a parent, you naturally want what is best for your child. Many parents are unaware of how oral health and dental care plays into that. According to the Center for Disease Control, tooth decay (cavities) is the number one most commonly occurring infectious disease among children. This leads to children experiencing toothaches in high numbers, missing days from school, and experiencing overall discomfort. Tooth decay is not a trivial thing, but a condition that can create significant discomfort for your child and even make it difficult for them to eat, speak clearly, and engage in normal daily activities. If you live in the Miami area and think that this will not happen to your child, think again. Statistically, it most likely will. Brushing and flossing at home will help, but it is not enough. You need to bring your child to our kid friendly dentist office twice a year so that we can examine and clean their teeth. By doing this, we will be able to remove the plaque and bacteria that can lead to destructive cavities.
Resources You Can Use at Home
In addition to visiting our kid friendly dentist office, it is important that you practice good oral hygiene at home and teach your child to do the same. In our dental office, we care for several children under the age of eight years and understand how challenging it can be to get them excited about brushing their teeth. Kids are busy and asking them to stop riding bikes, building Legos, or playing dress up to brush their teeth can lead to conflict fairly quickly. We get it. At Dr. Rita The Smile Designer, we can work with young children and are under no illusion that they are fascinated by oral health. Our job, however, is to change their opinion of dental care and show them that it can be fun and interesting. This way they will want to brush and floss their teeth, even without being told to do so.
If you live in or around Miami, we invite you to schedule an appointment with our dental office so that we can examine your child's teeth and teach them how to brush properly. Even if your child is already brushing, there is a good chance that they are doing it wrong and missing a lot of the plaque that has built up on their teeth. A simple video tutorial is a resource you can use at home. You can find one on the American Dental Association's website or even on YouTube. Playing a video that shows your child how to brush is a good reminder for them and, since they are used to receiving information this way, they are likely to receive and digest it better than if you reminded them yourself.
Once your child is brushing correctly, it is time to turn your attention to how long they are brushing for. At Dr. Rita The Smile Designer we encourage all of our patients to brush for two minutes, twice a day, regardless of how old they are. This, however, can be difficult for young children that find it hard to focus on a task or to stay still. As a kid friendly dentist, we want them to brush their teeth but staying still isn't a requirement. Try making it fun to brush their teeth by playing their favorite song for two minutes and letting them dance and brush. You can also play a two-minute video clip or cartoon for them while brushing. The American Dental Association has an entire section of their website devoted to these short videos and watching them will get your child used to brushing for the full two minutes. We have worked with families throughout the Miami area and have found that using media works far better than standing there with a stopwatch. The goal is to create positive associations between dental care and having fun so that your child will continue to brush their teeth as they grow.
Prevention
As a kid friendly dentist office in Miami, we are focused on preventative care. It is far better for your child to visit us for a regular teeth cleaning than to only see us for a toothache. Fortunately, by using preventative care methods we can help your child to avoid experiencing any dental discomfort. In addition to cleaning their teeth, one of the preventative modalities used is the dental sealant. Many children have deep ridges on the biting surfaces of their teeth. When they bite down and chew food, bacteria, food particles, and plaque can become trapped in those ridges, increases the chances of developing tooth decay. These areas are particularly difficult to clean with a toothbrush alone, so even the most fastidious of parents may find it challenging to keep cavities at bay. By using a dental sealant, a protective resin layer is placed onto the teeth so that nothing can become stuck in these ridges. The procedure is painless and fast since all we need to do is brush the material onto the teeth and allow it to harden. At Dr. Rita The Smile Designer, we have found this to be a simple way to prevent our young patients from getting cavities.
Regular Fluoride Treatments
Another tool for prevention is our regular fluoride treatments. We recommend that all children have this throughout their child and teenage years. If you do not consume public water, this is particularly important for preventing cavities. Statistically, if your child has a fluoride treatment in our dental office, their risk for getting cavities decreases by thirty percent. This is significant when you are considering the overall health and well-being of your child. With that in mind, we use whatever tools are at our disposal to ensure that your child is as healthy and as comfortable as possible both now and as they age. If you live in the Miami area, we invite you to schedule a dental exam by calling (305) 858-0505.
Why You Need a Comprehensive Oral Exam
We understand that not everyone is excited about dental care. We also understand that due to busy schedules, a lack of insurance, or general forgetfulness, people do not visit the dentist with any regularity. If that is you, do not worry; you are not alone. According to the USA Today, 34 percent of Americans do not visit the dentist on an annual basis. While this is a large group of people, not having a comprehensive oral exam can place you at risk for a variety of health issues. We encourage you to take an hour out of your day for the benefit of your oral health and your future quality of life. To get started, all you need to do is call (305) 858-0505 and schedule an appointment. Our friendly staff will not judge you for your lack of prior dental care but will be happy to get you up to speed again.
There is a direct link between visiting the dentist and keeping your natural teeth. If you want to ensure that you have a full mouth of healthy teeth, then visit the dentist. Gallup Poll released a study in 2014 finding that the states with the highest percentage of dental visits also had the lowest percentage of adult tooth loss. For example, in Connecticut, 74 percent of adults visited the dentist in the past year, and their rate of adult tooth loss was only 9 percent. On the other hand, only 57 percent of adults in West Virginia visited the dentist in the past year, and 37 percent of adults have complete tooth loss. The correlation is clear and should prompt you to give us a call. If you do lose your teeth, we can help by providing you with replacements in the form of dental implants, bridges, or dentures. Still, there is no need for you to experience significant tooth loss when you visit our office regularly for preventative care. Saving your teeth, after all, is less time-consuming and less expensive.
Another reason to schedule a dental check-up is to make sure that you don't experience a toothache or infection. We treat patients throughout the Miami area and find that toothaches can create enough discomfort to cause people to miss work. In fact, according to the Center for Disease Control, 164 million work hours are lost each and every year due to dental related health issues. If you have a busy schedule and feel you do not have time for the dentist, you definitely need to schedule a comprehensive oral exam. Failing to do so could result in oral health breakdown, resulting in more costly and time consuming therapy. After all, without preventative dental care, you are at a greater risk for tooth decay, infection, gum disease, and even tooth loss.
What Happens at Your Dental Check-Up
At Dr. Rita The Smile Designer, we are a gentle dentist, being sure to complete your comprehensive oral exam in a way that is comfortable and relaxing. We understand that some people do not visit the dentist since they have a dental phobia or concern that something may be wrong. If this is the case, and you do have a cavity, we will treat your tooth gently and carefully so that we can address your dental health issues without causing you any further irritation.
Call Us to Schedule a Checkup Today
We invite you to call 3058580505 and schedule your comprehensive oral exam right away. When you come in, our friendly staff will make sure everything is ready to go. Next, we will take images of your teeth and gums to see if there are any infections or decay that are under the surface. We will also perform a visual inspection of your gums and each one of your teeth. During this time, we will also be looking for signs of infection, tooth decay, gum disease, and oral cancer. If we identify any of these issues, we will discuss treatment options with you and may even be able to treat minor cavities that day. Before starting any procedures we will discuss them in detail to ensure that you are comfortable. We will also clean your teeth before you go to ensure that you do not have any lingering plaque or bacteria in your mouth. When you visit our Miami, FL dental office, we will provide you the highest quality of care we can, by completing your comprehensive oral exam efficiently and gently..
The Benefits of Coming in Now
At Dr. Rita The Smile Designer, we want you to visit our dentist office at the first sign of discomfort. If you have a slight toothache or irritation in your gums, you can schedule a dental exam. If there is a problem, we can correct it immediately, rather than allowing it to grow and spread. In many cases, we can help you to avoid experiencing any significant discomfort by simply removing the decayed area while it is still small. Otherwise, you may find yourself with a dental emergency as an untreated cavity spreads. Fortunately, we make it easy to schedule a comprehensive oral exam with our Miami dentist office. All you need to do is call (305) 858-0505 to schedule an appointment. We will work within your schedule to ensure that you receive the care you need, when you need it.
Why You Shouldn't Wait for Dental Care
While we understand that many people wait to seek dental care due to anxiety, time, or finances, we do not recommend it. Instead, we suggest that you schedule a dental exam at least once every six months, even if you are not experiencing any discomfort. Doing so will allow us to remove any plaque or bacteria that is on your teeth, ensure that you do not have any cavities that are forming, and prevent you from experiencing gum disease. Our goal is to treat you before you have any health issues, and a comprehensive oral exam allows us to do so. We welcome you to come in so that we can protect and improve your oral health.
For The Little Ones
Your child's oral health should be of top priority, starting as early as when they get that first baby or primary tooth, sometimes between six to eight months old. Baby teeth are extremely important in the development of speech, chewing, biting, and for maintaining, or holding, space for the adult, or permanent, teeth, coming in later. Also important is the effect baby teeth may have on your child's appearance as he or she grows and develops. It is for these reasons that Dr. Rita insists on the importance of educating you and your child on how to properly maintain a healthy diet and daily hygiene.
The Little One's First Dental Visit
In preparation for the big day, it is important to make it a positive experience for your child. It should be a fun and exciting day for all, even for you!
Tips on how to make the first time a pleasant one include:
Tell them Dr. Rita is very nice and cannot wait to meet them.
Dr. Rita will be counting their teeth. Ask them to guess how many they think they have…and then tell them they will find out at the visit.
Read to them about teeth and about going to the dentist.
Describe what Dr. Rita will be doing at the time of the first visit.
Talk to them about your positive dental experiences.
The first visit is typically very pleasant and requires very little treatment. You can expect the following to happen:
Dr. Rita will examine your little one's mouth, teeth, gums, and jaws. X-rays may be taken as needed.
Determine whether your little one has habits such as thumb sucking or tongue thrusting. If so, Dr. Rita may recommend a visit with an orthodontist. It may be beneficial to fit the child with an appliance meant to eliminate this habit early on, thus promoting normal jaw development.
Educate you and your little one about how to brush and keep that beautiful smile clean and healthy.
Educate you and your little one about what to, and not, eat in trying to maintain a healthy dentition.
If scheduled and appropriate, your little one may receive his or her first dental cleaning with our team hygienist.
Recommend a treatment plan or regularly scheduled maintenance visits.
By the time your little one is two years old, your child should have twenty baby teeth. Each child develops differently; do not be alarmed if the teeth come in a bit earlier, or later. This could be completely normal and in sync with your child's developmental pattern. The first teeth to come in are usually the two bottom teeth. Next, you should see the upper four front teeth in place. The others will come in, over time, there after. The permanent teeth will begin to erupt around the age of six years old. Some replace baby teeth and some do not.
Dr. Rita recommends the placement of sealants on the biting surfaces of your child's permanent back teeth. These are thin, clear, or tooth-colored, plastic coatings that are bonded on to protect these teeth from early cavities. They are considered a first line of defense against early childhood caries, or cavities.
Cavity prevention may take on various forms for children; however, the best way to address this concern is to properly brush, floss, and eat:
A diet rich in sugars and carbohydrates will increase the risk of cavities, as will a lack of, or ineffective, hygiene routine. Brushing and flossing regularly will decrease the incidence of decay.
Make certain your child is able to chew effectively, especially when eating sugars. The longer the sugary substances remain on the teeth the easier it will be for them to get a cavity.
Reduce the intake of sticky foods and snacks. Encourage your child to drink lots of water and rinse regularly after meals. Offer nutritious snacks, and brush, brush, brush!
And last, but not least, Dr. Rita recommends a regular fluoride regimen, both at home and at our office. Adequate fluoride application is known to help protect the teeth against decay.
Definition of Dental Terminology
Cosmetic Dentistry

Cosmetic dentistry combines comprehensive dental principles with artistic sensibility to design and create optimally healthy and beautiful restorations intended to enhance the appearance of one's smile while preserving ideal function and form.

Decay

Tooth decay is when the enamel of the tooth begins to breakdown as a result of bacterial invasion, causing an acidic induced erosion of healthy tooth structure.

Dental Caries

Dental caries are also known as Tooth decay is when the enamel of the tooth begins to breakdown as a result of bacterial invasion, causing an acidic induced erosion of healthy tooth structure.

Dental Checkup

A comprehensive oral examination that focuses on the evaluation of hard and soft oral structures including, but not limited to, the teeth, gums, jaw bone, jaw joint, bite, and cosmetic aspects of the smile. Both clinical and radiographic information is used to assess the status of the oral health while detecting any form of pathology that may affect the health of the oral cavity and its associated structures.

Dental Filling

A dental filling involves restoring the damaged structure of a tooth by using tooth colored resins or porcelain materials to restore natural form, function, and aesthetics to the dentition.

Dental Prophylaxis

A dental prophylaxis is a professional and detailed cleaning that involves the removal of plaque, calculus and stains from the teeth,thereby reducing the risks of inflammation and breakdown of the dentitions supporting structures.

Dental Sealants

Dental sealants are preventative restorations that contain a resinous material that is applied to the deep pits and fissures detected on the chewing surfaces of newly erupted teeth. These are used to help prevent dental caries from developing in children's permanent molars and premolars.

Dentist

A dentist, also known as a dental surgeon, is a doctor who specializes in the diagnosis, prevention, and treatment of diseases and conditions of the oral cavity.

Etchant

Etchant is a gentle acid applied to the surface of a tooth to prepare this area to bond to a resin restorative material or tooth colored filling.

Gingivitis

Gingivitis is the inflammation of gum tissue that results from plaque, other infections in the mouth, and poor oral hygiene. Gingivitis can be a precursor to more advanced forms of periodontal disease if it is not controlled and reversed. Signs of gingivitis include soft tissue redness,inflammation, and bleeding. Proper brushing, flossing, and prevention helps to prevent and reverse signs of early gum disease.

Occlusion

Occlusion is a general term used to describe the relationship of a the upper and lower teeth as they come together when the patient bites down.

Overjet

Overjet describes an attribute of occlusion relating to the horizontal orientation of the upper teeth to the lower teeth. A large overjet is also known as "buck teeth".

Preventive Dentistry

Preventive dentistry focuses on education, modalities, and treatment designed to achieve and maintain optimal oral health, described as one free of structural, bacterial, and restorative breakdown.

Tartar

Tartar forms when plaque builds up on the surface of the teeth and calcifies into a hard surface that is much more difficult to remove. Its presence will require professional dental debridement and education on its prevention. Daily removal of plaque by proper brushing and flossing habits will reduce the incidence of tartar and the pathology associated with its presence.

Tooth Enamel

Tooth enamel is the outermost protective layer of the tooth. Enamel is white and visible. Its hard composition protects the underlying layers, dentin and pulp, respectively.
Questions Answered on This Page
People Also Ask
Back to top of Kid Friendly Dentist
Recent Posts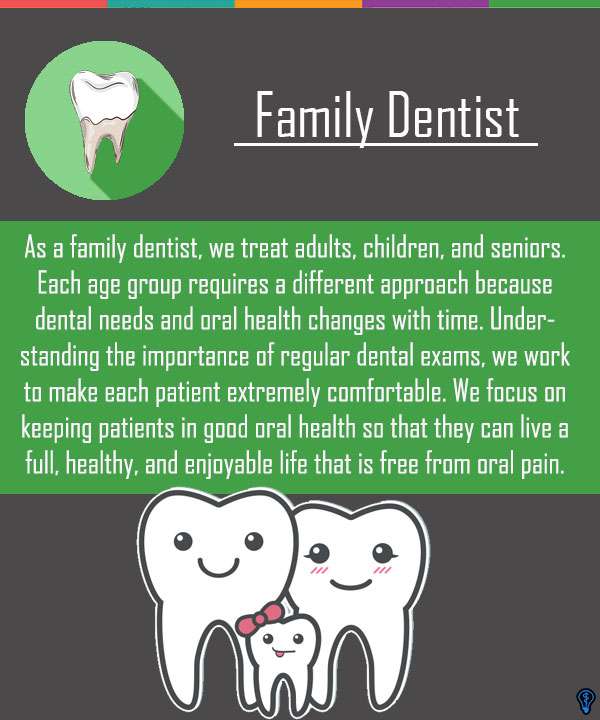 While many parents remind their children and ensure that they brush their teeth on a regular basis, children need professional dental care at a dentist. Along with specialized care toward children, there are also other steps parents can take to ensure their children have healthy teeth. As a family dentist, we suggest taking the following…
Explore additional topics covered on our website: